Kashmir 5 Nights 6 Days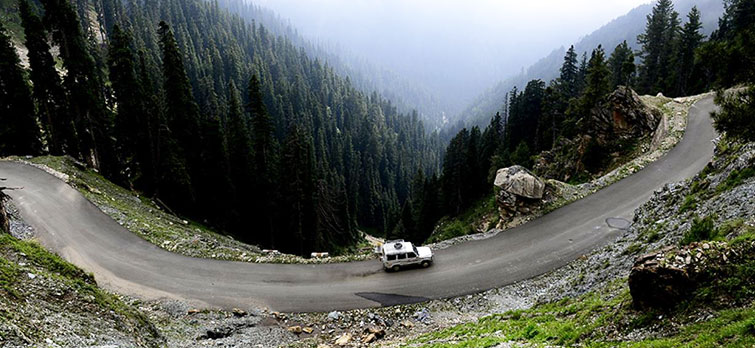 Welcome to the Srinagar, The Lake City. On arrival at Srinagar Airport, being your tour of 'Exotic Kashmir'. You will be transferred to Houseboat. After lunch enjoy a romantic 'shikara ride on the Dal Lake. Overnight stay at the Houseboat.
In Srinagar | Day Excursion to Gulmarg
We proceed to Gulmarg (60kms/2hrs drive) the scenic tour destination in Kashmir, primarily famous for ski slopes and natural 18 holes golf course, which is also the highest golf course in the world. Enjoy the splendour of nature and the snowy mountains. One can have Gondola ride (cable car) from Gulmarg to Kongdoori & Marry Shoulder. In evening drive back to Srinagar and enjoy overnight stay at the Hotel in Srinagar
In Srinagar | Day Excursion to Sonamarg
Today you embark on a full day excursion to the picturesque 'meadow of gold' Sonamarg. The fast flowing Sindh River makes it popular for trout and mahseer fishing in summer. You can opt for a pony ride to one of the glaciers for some fun in snow and ice (by your own payment). Return to the Hotel in Srinagar in the evening and enjoy comfortable Stay.
On to Pahalgam | Srinagar - Pahalgam
After healthy breakfast at the hotel, checkout and transfer on wheel to Pahalgam (90 Kms/2hrs) a lovely tourist spot in Kashmir also address as Valley of Shepherds. Pahalgam 2440 Mtrs (vale of Kashmir) on the way visit Saffron fields, Avantipur ruins and Anantnag sulphur spring. Pahalgam is the most famous place for Indian Film Industry. Enjoy the nature charm of the valley. Pahalgam is also famous for its alpine treks, nature walk and is also the central point of Amaranth Yatra. Night stay in Pahalgam.
In Srinagar Local Sightseeing | Pahalgam to Srinagar for Local Sightseeing - Mughal Gardens
Today after having breakfast we drive to visit the famous Mughal gardens in Srinagar which are Nishat Bagh (the garden of Pleasure), Shankarcharya Temple, Hazratbal Shrine and Shalimar Bagh (abode of love). These gardens are situated on the banks of Dal Lake. Nishat Bagh is the larger of the two gardens and has an impressive plantation of Chinar trees on its highest terrace. Both the gardens are built on a symmetrical plan of central waterways with fountains dividing a series of gardened terraces. Night stay at Hotel in Srinagar.
Return home with happy memories
After breakfast transfer to Srinagar Airport to board your flight with memorable experiences of Pinks Travels.