Ahmedabad – Statue Of Unity- Modera -Dholavira-Bhuj–Dwarka-Porbandar-Somnath-Sasan Gir-Diu-Ahmedabad (12 Nights & 13 Days)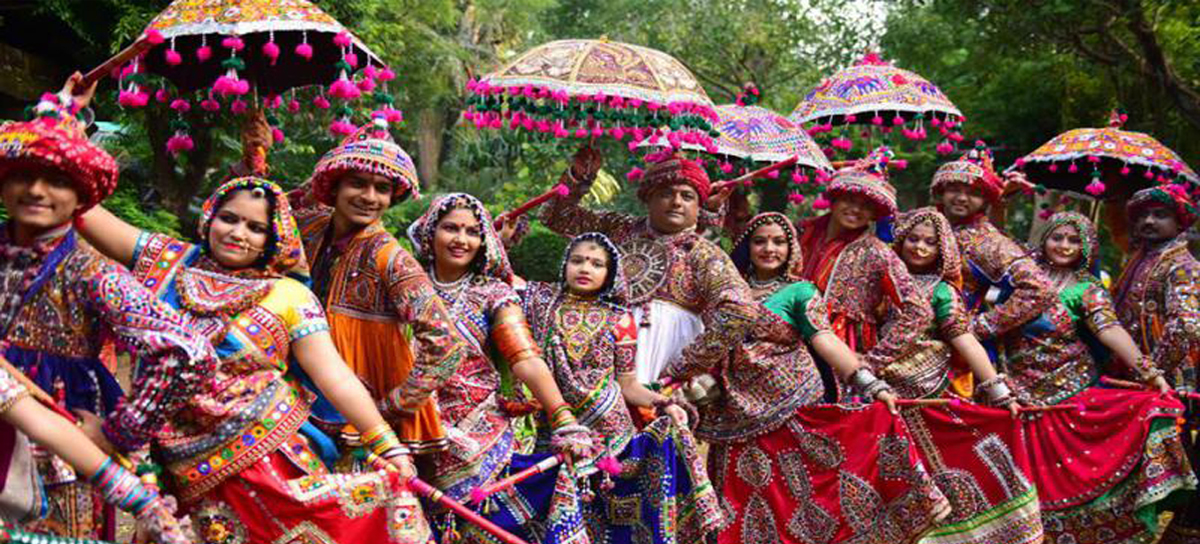 Welcome to Garvi Gujarat. Arrival at Ahmedabad. Meet and Greet representative of PINKS TRAVELS at the Airport/Railway Station & move towards Hotel & after freshen up proceed towards Ahmedabad local sightseeing.

Sidi Saiyyed Mosque - This mosque was the last significant of the Sultanate period. Although it was not completed, the exquisite stone grills of its arched windows are famous across the world for their fine tracery work.

Hutheesing Jain Temple - This beautiful Temple, built in 1948 by one of the influential families of Ahmedabad. Gandhi Ashram - Mahatma Gandhi established the Satyagraha Ashram along the Sabarmati River. He chose a barren location so that he could experiment with farming, livestock and other ideas.

In the evening we will move on towards Kankaria Lake – it is a 34-sides polygon with a 1.25 km circuit and steps leading down to the water level. On the eastern side is an elaborately carved water inlet with three circular openings.Overnight stay at Ahmedabad.
Ahmedabad – Statue Of Unity – Ahmedabad
Full Day Journey Approx 470 km/s by drive
In Morning after breakfast move on towards Statue of Unity – it is World's Tallest Statue with a height of 182 metres.

Further visit Sardar Sarovar Dam – is a gravity dam on the Narmada River.

Valley of Flowers – Forest Department of Government of Gujarat is developing a project Valley of Flower on the bank of a river Narmada as a tourist attraction.

In evening enjoy Light & Sound Show at Statue of Unity & after that return back to Ahmedabad.

Overnight stay at Ahmedabad.
Ahmedabad – Modhera – Patan – Dholavira
Approx 400 km/s by drive (8hrs)
Early morning after breakfast move on towards The Adalaj Stepwell- It is a located in the village of Adalaj, close to Ahmedabad city and in Gandhinagar district in the Indian state of Gujarat.It was built in 1498 in the memory of Rana Veer Singh, by his wife Queen Rudadevi. It is a fine example of Indian architecture work.

After that visit Modhera -Sun Temple – is a Hindu Temple dedicated to the solar deity Surya located at Modhera village of Mehsana district, Gujarat. It is situated on the bank of the river Pushpavti. It was built after 1026-27 CE during the reign of Bhima I of the Chalukya dynasty.Then further we will continue to visit,

Patan – Rani Ki Vav – This stepwell is the oldest and the deepest among the 120 other stepwells in Gujarat. The sculpture of Rani Ki Vav depicting Lord Vishnu's avatars, Hindu Goddesses, Jain idols and their ancestors. Most of the sculpture in devotion to Vishnu, in the forms of his avatars (Krishna, Rama and others) representing their return the world. After sightseeing we will further move towards Dholavira. On reaching Dholavira we will have traditional food of Dholavira in our dinner.

Overnight stay at Dholavira.
Dholavira – Bhuj
Approx 230 km/s by drive (5hrs)
Early morning move towards white desert (rann) for sunrise and after that visit Last BSF check post. On returning to resort we will have our breakfast & after freseh-up we will proceed towards Harappan Civilisation site & Fossil Park. After sightseeing having our lunch we will further move towards Bhuj. After reaching bhuj check-in to hotel.

Overnight stay at Bhuj.
Early Morning after breakfast proceed for the local Bhuj City sightseeing. Visit Aina Mahal Museum – The Palace was built by Rao Lakhpatji of Kutch State in around 1750. Lakhpatji's master craftsman Ram Singh Malam designed the palace in the local style and decorated it in the European style with glass – mirrors and tiles (Close on Thursday).Further visit Prag Mahal Museum – It was designed by Colonel Henry Saint Wilkins in what the local tourist office describes as the Italian Gothic style (Close on Thursday)and proceed towards

Vijay Villas Palace– summer retreat of the Royal family & Shyamji Krishana Varma Memorial, to know about the great freedom fighter. Later depart for Mandvi. After sightseeing return back to hotel.

Overnight stay at Bhuj.
Early Morning after breakfast proceed for Dhordo – White Desert is a result of accumulated Salt. The salt accumulates over the Great Rann of Kutch to turn into the spectacular White Desert. Further Visit Gandhi Nu Gam, Khavda Village, Kalo Dungar (Black Hill) – The Kalo Dungar is also famous for 400 years old Dattatray walked on the earth, he stopped at the Black Hills and found a band of starving jackals and it was names as Dattatray Temple. Later proceed towards Bhuj.

Overnight stay at Bhuj.
Bhuj – Dwarka
Approx 530 km/s by drive (8hrs)
Early morning after breakfast we will move to Lord Krishna's land which is Dwarka. We will cover en-route Jamnagar sightseeing Bala Hanuman Temple- This famous temple complex on the periphery of jamnagar's central lake has resonated for 40 years to the nonstop chant "Sri Ram,Jai Ram,Jai Jai Ram "performed in replays by priests and the devout. After that move towards Dwarka & on reaching Dwarka check in to hotel.After that we will visit the famous Dwarkadeesh Temple.

Overnight stay at Dwarka.
Early Morning after breakfast we will move towards Bet Dwarka-This Temple complex includes several smaller temples dedicated to Shiva, Vishnu, Hanuman and Devi. After that visit Nageshwar MahadevThis Temple enshrines one of the 12 Jyorlingas in India. After visiting these 2 locations further move towards Rukmani Mata Temple–This Temple is said to be 2,500 years old.Then we will visit Gopi Talav– This lake takes us back to Lord Krishna's childhood when he was revered by the Gopis of Vrindavan. When Krishna shifted his capital to Dwarka, the Gopis couldn't bear his estrangement.

Overnight stay at Dwarka.
Dwarka – Porbandar – Somnath
Approx 245km/s by drive (6hrs)
Early Morning after breakfast check-out from and move towards Somnath via Porbandar. We will cover en-route Porbandar sightseeing which includes Kirti Mandir-The main attraction for most visitors is the 3 storied house where Gandhiji was born in 1869. The spot where his mother gave birth is marked with a swastika.

Sudamapuri Temple- While attending the Sandeepani Ashram as a young boy, Krishna befriended Sudama, the son of a poor Brahmin. After completing their studies, Krishna went on to rule Dwarka while Sudama married a simple girl and led the life of poor Brahmin householder.

Overnight stay at Dwarka.
Somnath – Sasan Gir
Approx 80 km/s by drive (3hrs)
Early Morning after breakfast check out from hotel and move further towards sightseeing of Somnath, which includes Triveni Sangam- It is the "confluence" (Sangam in Sanskrit) of 3 rivers (Ganga,Yamuna & Saraswati).

Bhalka Tirth-is the place where Krishna was hit by an arrow shot by a hunter named Jara, after which he is said to have left the earth for the heavenly abode, an act referred to in the Puranas as Shri Krishna Neejdham Prasthan Leela.

Gita Mandir - is famous for its depiction of Shrimad Bhagwat Geeta, which is carved on 18 marble pillars. The mandir, dedicated to Lord Krishna, is decorated with paintings of Lord Krishna. After sightseeing departure for Sasan Gir. Check - In to hotel and after freshen up depart for

Devaliya National Park in Evening. Devaliya National Park also referred to as the Gir Interpretation Zone is an area carved out as a distinct eco – tourism locale allowing tourists to view lions as well as the other rare wild animals of Gir within a short time span and against cheaper charges. Overnight stay at Sasan-Gir.
Sasan Gir - Diu
Approx 80 km/s by drive (3hrs)
Early Morning depart for Safari at Gir National Park. And after breakfast check-out from hotel and proceed towards Diu. On reaching Diu Check-In to hotel & visit, Diu Fort – The town's central landmark is the Diu Fort built by the Portuguese in the late 15305. Diu Museum – The St. Thomas Church has been converted into a museum, with antique statues, various stone inscription of earlier rulers, wooden carving, Hindu idols and relics of Jain Temple. Nagoa Beach – This is a great place to relax.

Overnight stay at Diu
Diu - Ahmedabad
Approx 400 km/s by drive (9hrs)
In morning after breakfast check-out from hotel & move towards Ahmedabad. On reaching Ahmedabad check-in to hotel & depart towards Akshardham.

Overnight stay at Ahmedabad.
In morning after breakfast check-out from hotel & drop at Ahmedabad Railway Station / Ahmedabad Airport.