Textile Tour (07 Nights & 08 Days)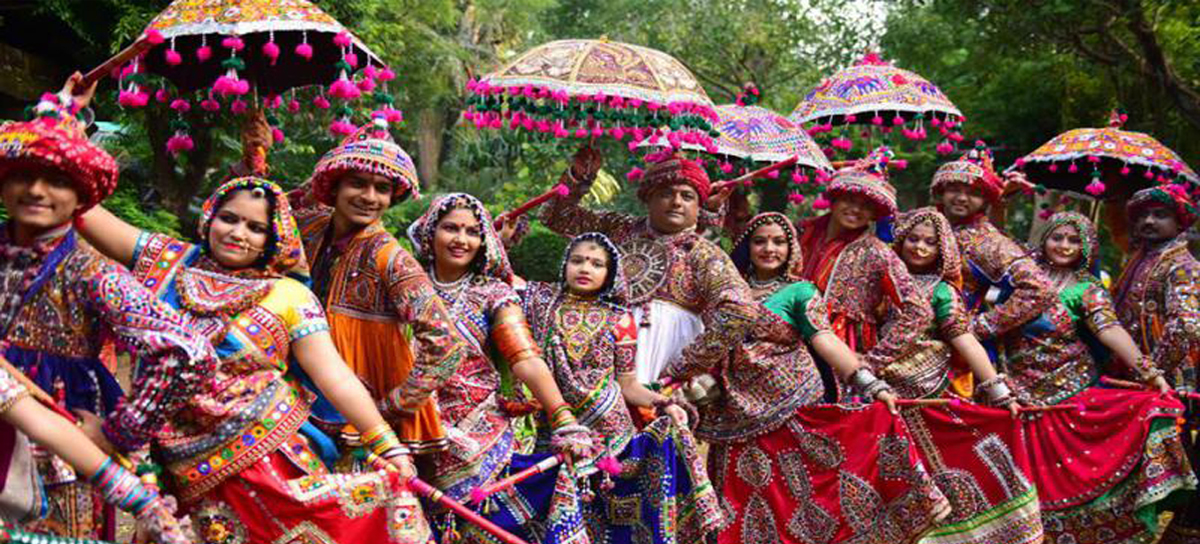 Welcome to Garvi Gujarat, Arrival at Ahmedabad which is known as home Of Handicraft & Textile. Meet and Greet the representative of PINKS TRAVELS at the Airport / Railway Station. Check in to the hotel and take rest. After leisure visit Gandhi Ashram -This was one of the many residences of Mahatma Gandhi who lived at Sabarmati (Gujarat). At Evening visit Law Garden Night Market and visit of Food Market at Manekchowk. Overnight Stay At Ahmedabad.
Ahmedabad –Modhera – Patan – Siddhpur – Ahmedabad
Approx 300 km/s by drive (6hrs)
Early Morning After breakfast proceed to Modhera – Sun Temple is a Hindu Temple dedicated to the solar deity and proceed to Patan & explore the famous Patola Sari is one of the finest hand-woven sarees produced today. This is a specialty of Patan. It is famous for extremely delicate patterns woven with great precision and clarity. Rani Ki Vav – This stepwell is the oldest and the deepest among the 120 other stepwell in Gujarat. The sculpture of Rani ki vav depicting Lord Vishnu's avatars, Hindu Goddesses, Jain idols and their ancestors. Most of the sculpture is in devotion to Vishnu, in the forms of his avatars (Krishna, Rama and others), representing their return to the world. And depart for Siddhpur visit Bohra Haveli and enjoy the local Vohri Street food likes Chana Bateta & Nafee's sweets. Overnight Stay At Ahmedabad

In evening enjoy Light & Sound Show at Statue of Unity & after that return back to Ahmedabad.

Overnight stay at Ahmedabad.
Ahmedabad – Wadhwan (Via Textile Exploring on the way) – Bhuj Approx
400 km/s by drive (8hrs)
Early Morning after breakfast proceed to bhuj en route visit Wadhwan city for its Bandhani making. Bandhani is an expression used in Gujarat for textiles where different designs are produced by tying individual parts of the fabric before dyeing and also for Brassware Work. And depart for Bhuj. Overnight Stay At Bhuj.
Bhuj – Mandvi Approx
Approx 230 km/s by drive (5hrs)
Early Morning after breakfast depart for Mandvi. Mandvi is costal town and it's famous for Vijay Vilas Palace, Dabeli, Beach and Cargo Ship making yard. On the way visit 72 Jinalaya Jain Temple. Mandvi is famous for it's screen and Wax block printing in it's own Unique style. Overnight Stay At Bhuj.

Overnight stay at Bhuj.
Bhuj local Sightseeing & Bhujodi Excursion
Early Morning after breakfast visit local sightseeing of Bhuj, Aina Mahal, Prag Mahal, Kutch Museum, after that visit Bhujodi – the hub of handicraft textiles. First we will visit LLDC Leaving – Art And Craft Museum in bhujodi. You can explore the all kind of handicraft. After visit bhujodi proceed to Ajrakhpur. Ajrakhpur is famous for Block Printing. The art is called 'Ajrakh' and the village derives its name from that. 'Ajrakh' denotes the slow, painstaking process in which the artisan proceeds step-wise.

He prints one colour of a design and washes the cloth till he gets the colour right before printing the next colour. So the process means Aaj ke din rakh or keep it for the day, till the colour fastens: don't be in a tearing hurry like the modern world! Back to bhuj. Overnight Stay At Bhuj.
Bhuj – Banni Village
Approx 200 km/s (4hrs)
Early morning after breakfast proceed to Khavda for visit pottery Ibrahim & craft which is tradition of Gujarat. Then after wooden craft visit proceed to Hodka Village is quite famous for its art and craft work. And also, most popular for the leather work is Hodko. Nirona village is popular for Rogan Art – Rogan is the of painting fabrics with dyes using a castor oil base. The process begins with boiling the castor oil till it thickens. Overnight Stay At Bhuj.
Bhuj – Muli – Sayla
Approx 300 km/s (5hrs)
Early Morning after breakfast check out from hotel and depart for Sayla & en-route visit Swaminarayan Temple in muli which is famous for its artistic wooden carving. Local exploration of Dari making and Patola making in Sayla. Overnight Stay At Sayla / Dhangadhra Local Traditional Homestay.
Sayla – Ahmedabad
Approx 160 km/s (3hrs)
Early Morning after breakfast check out from hotel and and return back to Ahmedabad and later proceed drop at Ahmedabad Airport / Railway Station.